Raven Skull Ring
$268.00 – $272.00
Bold, eye-catching, and empowering, this beautifully sculpted raven skull ring is so comfortable, you won't want to take it off. Perfect for daily wear, it's the ultimate in men or womens viking jewelry to showcase your rebellious nature and keep you connected to your raven or crow spirit animal.

READY TO SHIP:
This item is ready to ship within 3 to 5 business days.
Description
Raven Skull Ring - Corvus Corax
This raven inspired skull ring is a bold statement piece for raven or crow lovers, fans of epic fantasy, and men and womens viking jewelry. Expertly crafted norse witch's ring with realistic detail in sterling silver, a metal of purity and intuition. Need it made to order in your ring size? Contact me and make your request.
Skull length: 35mm (1.38 inches)
Material: Solid 925 sterling silver with an antiqued finish.
Polished by hand to make each piece unique.
Weight: Approximately 16 grams depending on the ring size
Cruelty-free: Completely sculpted from photographic references of real raven skulls.
Ring band is uniquely shaped for comfort and stability.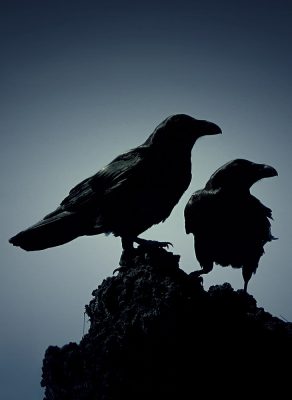 Odin's ravens - Huginn and Muninn
In Norse mythology, two ravens named Huginn and Muninn, accompanied the god, Odin. Huginn represented the power of thought and active pursuit of knowledge, while Muninn represented the intuitive part of the mind.
Every morning, Odin would send these two ravens out into the world, and each evening they returned to tell him of the many things they'd seen and learned.
Many scholars believe that Huginn and Muninn's role as Odin's messengers are symbols of his shamanic practices. Odin sending his thought (Huginn) and mind (Muninn) into a trance-state journey into the Underworld by way of the Norse concepts of "fylgja" (the animal spirit) and "hamingja" (the altered appearance of a shape-shifter).
Join the RavynEdge VIP club for a discount you can use immediately.