Raven Claw Couples Matching Necklace Set
$557.00 – $653.00
This matching raven claw necklace set is for dark and mysterious couples who want to show the world your devotion to each other in a bold way. The intimate symbolism will help you highlight your harmony with your partner and be a reminder of the undying bond you share.

READY TO SHIP:
This item is ready to ship within 3 to 5 business days.
Description
Raven Foot - Two Necklace Bundle
Matching jewelry is a great way to feel more connected with a partner, parent, child, or best friend.
This raven foot may represent a claw of any similarly equipped creature such as a crow, griffin, or dragon. Created for couples who are fans of epic fantasy, Norse culture and Viking jewelry. Give this raven claw necklace set as a unique wedding gift, anniversary gift, or keep one for yourself and give the other to a special friend.
This bundle includes two pendants (one small and one large raven foot)
Pendant Sizes: Small – 38mm (1.5 inches) and Large – 50mm (1.97 inches)
Material: Solid 925 sterling silver with an antiqued finish to enhance the details
Polished by hand to make each piece unique
Chain material: Sterling silver oxidized to match the pendant, or no chain (pendant only)
Chain adjusts to suit different necklines.
Cruelty-free: Completely sculpted from photographic references of raven claws.
Realistic and three dimensional, you can wear these pendants back or front.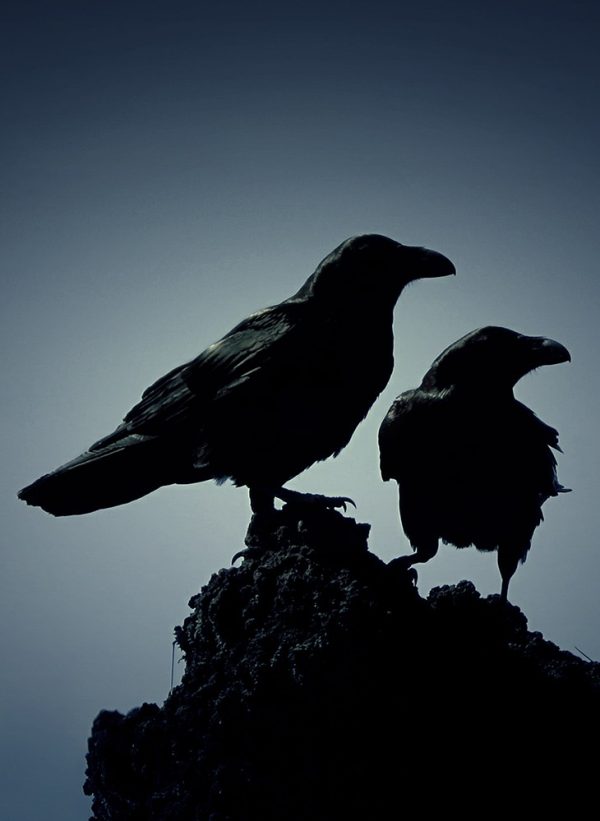 Raven couples are deeply devoted to one another. Once they find their life companion, they do almost everything with each other and are rarely far apart for even a night. Even outside mating season, couples keep their relationship strong with loving gestures such as bringing each other special treats, caressing beaks, and preening one another. They'll also go on romantic flights, locking toes and tumbling through the sky, swooping in unison or soaring wingtip to wingtip.
Odin's ravens - Huginn and Muninn
Huginn and Muninn are the most renowned raven pair. In Norse mythology, these two ravens accompanied the god, Odin. Huginn represented the power of thought and active pursuit of knowledge, while Muninn represented the intuitive part of the mind.
Every morning, Odin would send these two ravens out into the world, and each evening they returned to tell him of the many things they'd seen and learned.
Many scholars believe that Huginn and Muninn's role as Odin's messengers are symbols of his shamanic practices. Odin sending his thought (Huginn) and mind (Muninn) into a trance-state journey into the Underworld by way of the Norse concepts of "fylgja" (the animal spirit) and "hamingja" (the altered appearance of a shape-shifter).
Join the RavynEdge VIP club for a discount you can use immediately.
Only logged in customers who have purchased this product may leave a review.