Raven Skull Ring with Labradorite – Size 7
$165.00
Combining feminine elegance with a gothic aesthetic, this unique raven skull ring with a faceted labradorite is perfect for the lady with a macabre soul.

READY TO SHIP:
This item is ready to ship within 3 to 5 business days.
Only 1 left in stock
Description
Eternal Oath - Raven Skull and Faceted Labradorite Ring
Eternal Oath is a non-traditional ring that features two cute little raven bird skulls connected by a beautiful, faceted labradorite. The raven skulls represent your two spirits bonded even after death.
Labradorite is excellent for sharpening intuition and awakening psychic abilities. It can calm an overactive mind, bring clarity of thought, and energize the imagination. Heals, balances, and protects the aura against negativity and evil presence. Encourages strength of will and promotes self-confidence, determination, and self-worth. Also believed to bring good luck.
Expertly crafted in solid sterling silver and oxidized to bring out the amazing details of the tiny raven skulls, this ring is a stand-out piece with a delicate gothic edge.
This unique labradorite ring makes an excellent gothic promise ring, dainty skull engagement ring, or labradorite wedding ring for raven or crow lovers.
Please Note: The labradorite used in this ring is a natural stone. The degree of flash will vary in relation to movement and light. There may be inclusions or imperfections within the stone, but that is what makes each one-of-a-kind unique. Your labradorite may look slightly different from the pictures, but it will be equally lovely.
Ring size: 7 US

Band thickness: 2mm
Gemstone: 6mm faceted labradorite
Material: Solid 925 sterling silver with an antiqued finish.
Polished by hand to make each piece unique.
Contact me to have this ring made with a different gemstone.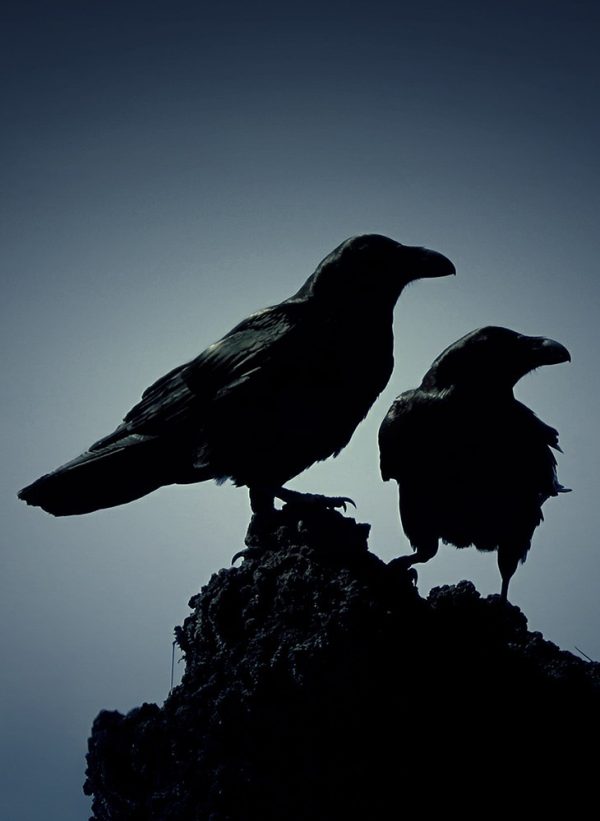 Raven couples are deeply devoted to one another. Once they find their life companion, they do almost everything with each other and are rarely far apart for even a night. Even outside mating season, couples keep their relationship strong with loving gestures such as bringing each other special treats, caressing beaks, and preening one another. They'll also go on romantic flights, locking toes and tumbling through the sky, swooping in unison or soaring wingtip to wingtip.
Odin's ravens - Huginn and Muninn
Huginn and Muninn are the most renowned raven pair. In Norse mythology, these two ravens accompanied the god, Odin. Huginn represented the power of thought and active pursuit of knowledge, while Muninn represented the intuitive part of the mind.
Every morning, Odin would send these two ravens out into the world, and each evening they returned to tell him of the many things they'd seen and learned.
Many scholars believe that Huginn and Muninn's role as Odin's messengers are symbols of his shamanic practices. Odin sending his thought (Huginn) and mind (Muninn) into a trance-state journey into the Underworld by way of the Norse concepts of "fylgja" (the animal spirit) and "hamingja" (the altered appearance of a shape-shifter).
Join the RavynEdge VIP club for a discount you can use immediately.