Tiny Bird Skull Earrings
$99.00
Creepy cute bird skull earrings that are lightweight and easy to wear. These gothic stud earrings crafted in sterling silver are the perfect edgy fashion accessory for men or women.

READY TO SHIP:
This item is ready to ship within 3 to 5 business days.
Only 1 left in stock
Description
Sculpted to look like a miniature skull of the raven, these bird skull earrings were made to preserve as much of the realistic detail as possible at a tiny size. Crafted in real sterling silver which is durable, trendy, and non-reactive. 
Perfect to wear on the front lobe or second hole piercing. Wear them alone or as part of an ear stack with the Raven Claw Earrings. These dainty studs will add a touch of rebellious energy to any outfit.
Huginn and Muninn will be your companions as they whisper secrets into your ears and guide you through the spirit realms to discover the mysteries of the unknown.
For raven or crow skull lovers, fans Norse mythology or the Celtic goddess Morrigan.
The pair of silver stud earrings you'll receive are brand new and have never been worn.
Skull length: 11mm (0.43 inches)
Material: Solid 925 silver with an antiqued finish to enhance the details.
Polished by hand to make each piece unique.
Cruelty-free: Completely sculpted from photographic references of raven skulls.
Realistic detail of a raven bird skull
Sterling silver friction ear nuts included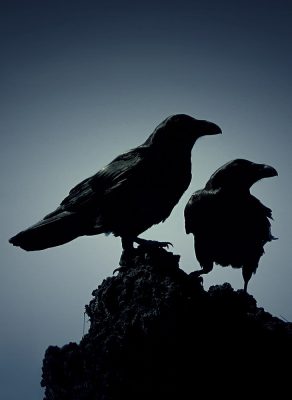 Odin's ravens - Huginn and Muninn
In Norse mythology, two ravens named Huginn and Muninn, accompanied the god, Odin. Huginn represented the power of thought and active pursuit of knowledge, while Muninn represented the intuitive part of the mind.
Every morning, Odin would send these two ravens out into the world, and each evening they returned to tell him of the many things they'd seen and learned.
Many scholars believe that Huginn and Muninn's role as Odin's messengers are symbols of his shamanic practices. Odin sending his thought (Huginn) and mind (Muninn) into a trance-state journey into the Underworld by way of the Norse concepts of "fylgja" (the animal spirit) and "hamingja" (the altered appearance of a shape-shifter).
Join the RavynEdge VIP club for a discount you can use immediately.